The humble conservatory has had a long and fascinating history. It originated in the 16th century, when the wealthiest families built elaborate glass structures to cultivate citrus fruits and exotic plants. By the end of the 19th century, they had become a place for socialising and recreation.
Modern conservatories are sun-bathed spaces that continue to blur the lines between indoors and out. It's a place for dining, socialising and relaxing. A garden room that can be used all year-round, whatever the weather. No wonder we love them in the UK!
If you're considering adding a conservatory to your home, be inspired by these stunning design ideas:
Steel or Timber Frame
White uPVC has been used to build conservatory frames for years. It's cost-effective, durable and very easy to maintain. But it's not for everyone. Steel or timber frames are two stylish and practical alternatives.
Dark steel is ultra-modern and very striking while timber is more traditional and better at blending into its environment. The material you choose should complement the style of your house – and not present an eyesore to your neighbours.
Bring the Outdoors In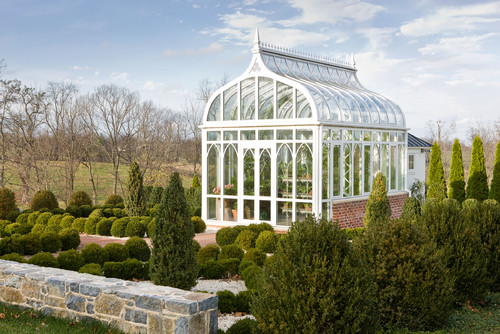 Conservatories are these wonderful spaces that are somehow both outside and indoors at the same time. You can enhance this feeling with lots of natural wood and greenery. Plants are known to have positive effects on our health and well-being so they don't just look good, they do good.
If you're worried about keeping plants alive, choose hardier varieties like cacti, succulents and air plants.
Let Your Furniture Make a Statement
It's tempting to fill a conservatory with wicker garden furniture but since most modern conservatories are well insulated and protected from the elements, it's just not necessary.
Opt instead for stylish indoor furniture; a bold and beautiful sofa, a plush rug, a vintage side table, your favourite lamp… The conservatory is another room in your home, so treat it like one. Create a space that makes an impact and has your guests saying 'wow'.
Open Plan Living
Conservatories are often built on to the outside of the property as an extension of the existing space. Unfortunately, this can mean it feels a little detached from the rest of the house.
Our final design idea removes that exterior wall and has the conservatory adjoined to a room (such as the kitchen) to create a gorgeous open-plan living area that is flooded with natural light. This gives growing families that much-needed extra space, and is perfect for entertaining.